I MIGLIORI FREEWARE PER IL MAC

---
LAME
Esportare in .mp3
"Lame FrameWork" + LameComponent permettono di esportare con iMovie, QuickTime Pro, Final Cut e freeware come The Exporter un documento audio (o l'audio di un filmato) in mp3.
Con iMovie
(condividi > QuickTime > impostazioni avanzate > Condividi):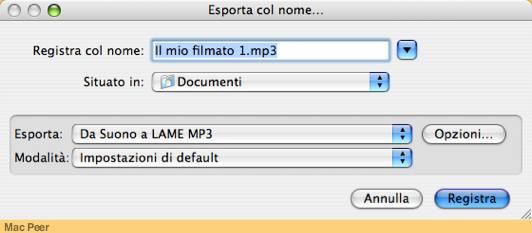 COME INSTALLARE LAME (MAC INTEL):

Scaricare la versione Universal di LAME a partire dalla seguente pagina:
http://www.thalictrum.com/
Si tratta di un comodo Installer: basta un doppio click per installare tutto quanto!
Alla fine si riavvi QuickTime e/o l'applicazione che si intende usare per esportare MP3.
COME INSTALLARE LAME (MAC PPC):

1) Scaricare LAME.framework e LAMEEncoder.component (Per Mac PPC)

2) Copiare la cartella LAME.framework e incollarla in Libreria > FrameWorks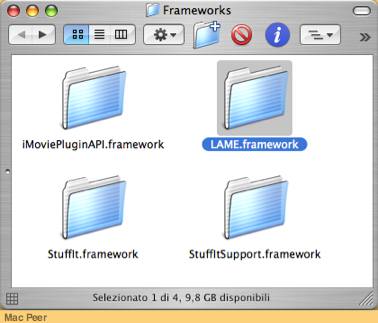 3) Incollare il documento LAMEEncoder.component nella cartella Libreria > QuickTime
4) Riavviare QuickTime

TIP: molto utile per inviare audiomessaggi come allegati Mail a cugini Windowsiani che si troveranno a loro agio con un documento mp3.

Chi non ha QuickTime Pro può registrare il proprio messaggio e convertirlo in mp3 usando iMovie o The Exporter.
Segnalato sul Forum di Mac Peer


---